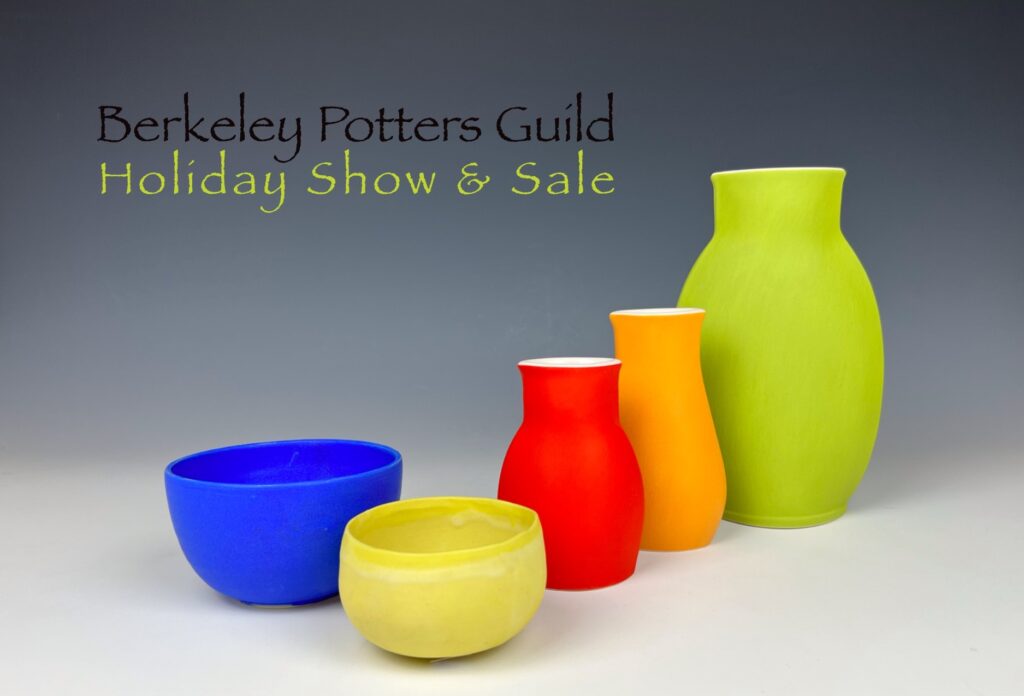 BERKELEY POTTERS GUILD 51st HOLIDAY SHOW opens December 3, 2022 ~ every Saturday and Sunday including full week from December 17 through the 24 with 17 clay artists exhibiting new work, live music, and good cheer.
If you are seeking authenticity and creative spark in your home or gift giving we are here for you. Passionate about living with handmade and artful beauty, Guild potters are dedicated to the finest craftsmanship and design. The current movement towards bringing something with feeling and more character than a manufactured item into one's home suggests a longing for human touch, and recognition of its value in our busy lives.
Come see us! Find your treasure while browsing the labyrinthian halls of the Guild, each twist and turn bringing guests into surprisingly diverse and pleasing studios offering ceramics both modern and traditional. Displays are filled with pots, sculpture and jewelry just fired in our kilns, each piece signed with the signature and imprint of the maker. The subtle imperfections of handmade ceramic art bring us the joy of "wabi sabi", Japanese for the beauty of imperfection; the feeling of the person behind the piece. It's what we are all seeking ~ connecting to what is human in each one of us, together. Living with handmade beauty every day can assist that wish. Let us bring you that joy. Looking forward to seeing our visitors !
Holiday Show
December 3/4, 10/11, 17 – 24
11 to 5 / closing at 2 PM on Christmas Eve
FREE EVENT
Live Music
Street parking
😷MASKS REQUIRED IN THE BUILDING AT ALL TIMES😷