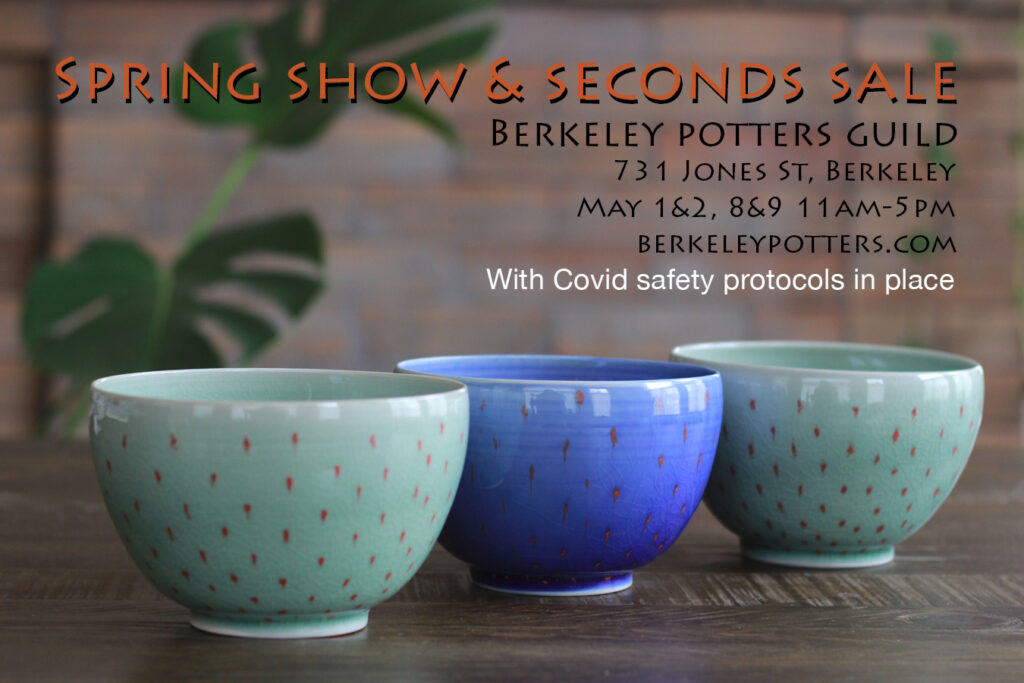 50 YEARS STRONG!
Invitation to Our Annual SECONDS SALE
Celebrating 50 years in 2021, the Guild is happily anticipating seeing our beloved customers at our annual SECONDS SALE, May 1/2 and 8/9. All COVID-19 protocols will be observed including social distancing. Masks are still mandatory by state law including for children over two years old.
Studios are buzzing as members finish new pots and jewelry to accompany the extravaganza of spectacular SECONDS which are two years in the making. Floral vases bursting in color and beautifully formed speckled stoneware cups as magical as river stones, alluring gem-like porcelain tableware, chocolate brown vessels wrapped in reeds and bamboo, irresistible ceramic jewelry framed in silver, evocative sculpture and whimsical, retro, narrative clay creations will greet you in our open warehouse space.
Is there anything more satisfying than holding a beautifully hand made cup in your hand, the well wishes of the maker resonating with each sip of coffee or tea? Committed to the highest quality of craftsmanship, we offer the gift of modern day keepsakes; handmade ceramics to live with and use everyday.
Please join us as we celebrate community, hope and robust health in a new year. We would also like to honor dear loved ones we have lost and recognize the strength of our organization in 50 years together making pottery in collective excellence.
Berkeley Potters Guild Annual Seconds Sale
FREE EVENT
May 1/2 and 8/9, 2021
11 to 5 each day
731 Jones Street x 4th
510-524-7031
~ Safely distanced with COVID-19 protocols observed
~ Easy Street Parking
~ Please wear a mask, includes children over age two
~ Sorry, we currently cannot invite dogs other than service dogs
~ NO reusable bags. We will wrap and bag all purchases for you