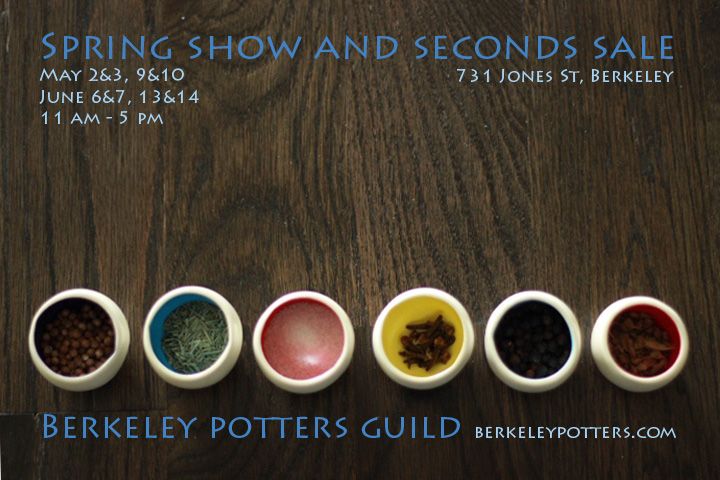 SPRING OPEN HO– USE!  SALE!  SECONDS!  NEW WORK!
Spinning, pouring, coiling, sculpting and painting, members of the Berkeley Potters Guild have been earnestly preparing for their Spring unveiling.
Saturday and Sunday May 2 / 3 and
Mother's Day weekend May 9 / 10
11:00 AM – 5:00 PM each day
Meet the artists who will be there, generous with their time and talents, happy to greet attending guests. Private studios and the labyrinthine hall have been transformed into beautiful displays showcasing an amazing array of ceramic offerings. Animal sculpture, sturdy stoneware, delicate porcelain, Majolica, Raku, terra cotta ovenware, earrings, teapots, as well as artful cups await to be brought to their new homes.
The Guild is a collective group of potters committed to expanding the reach and appreciation of  studio pottery, passionate about making, living with and sharing the lifestyle of handmade ceramics.
Don't forget to mark your calendars to come see the spectacular show in person.
Berkeley Potters Guild
731 Jones Street x 4th Street
510-524-7031
~ Please bring a reuseable shopping bag
~ FREE easy street parking
~ Children and leashed doggies welcome