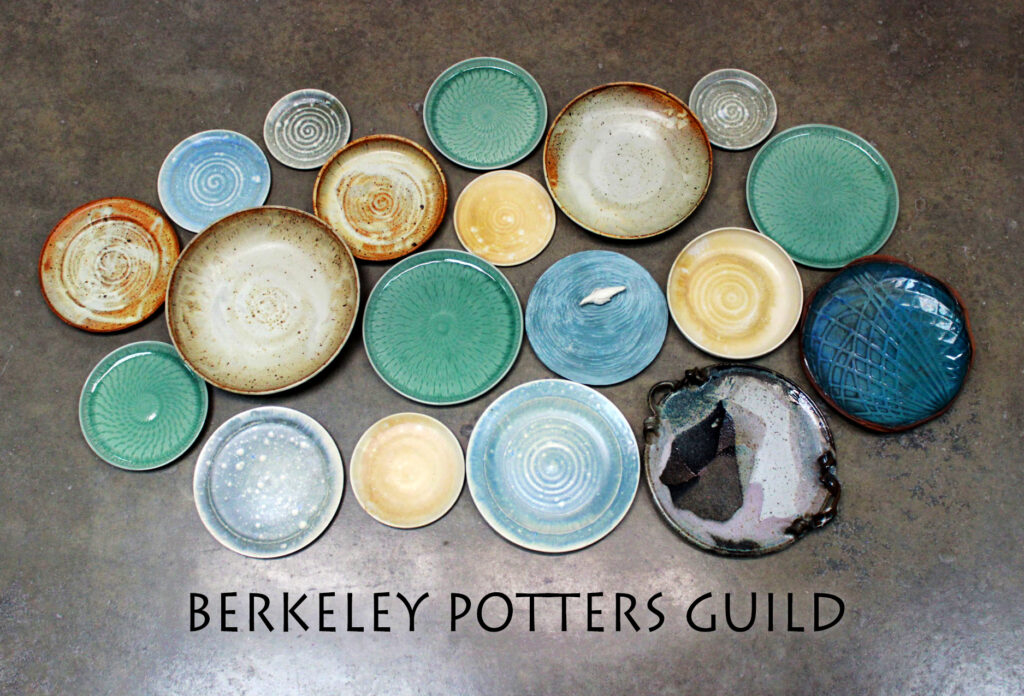 Is there a better gift than something handmade from the heart?
An outpouring of creativity and passion for clay has rocked the Berkeley Potters Guild in recent weeks as members prepare for the annual Holiday Show. This year, with respect for everyone's safety and still wishing to share the abundance of artful effort, show dates are shortened to two weekends, WITH FULL PROTECTIVE COVID SAFETY MEASURES IN PLACE:
Saturday and Sunday, December 5/6 and 12/13, from 11:00AM to 5:00 PM every day.
Potters' wheels spin, kiln fires roar, color is everywhere as multitudes of decidedly different yet equally compelling ceramic works emerge from every studio in the labyrinthian building. Dynamic, beautiful pots made to be used and enjoyed everyday, some in silky porcelain, translucent ruby or cool celadon glazed; others of earthy stoneware, textured as if extracted from the earth's core, opaque and mysterious.
But wait! Clay is not the only offering at the Guild ! Sparkling glass trays and dishes, soft, cuddly knitted wearables, innovative jewelry, greeting cards, original paintings, and even crocheted sculptural vases will be available for sale.
MARK YOUR CALENDARS! Please do not miss this custom designed two weekend event and visual journey celebrated for over 40 years.
FREE EVENT
Two weekends – December 5/6 and 12/13 / 11 to 5 each day. Now by popular demand a third weekend Dec 19/20 has been added!
Free street parking
COVID PROTOCOL FEATURES:
~ Six foot distancing and masks required AT ALL TIMES everywhere inside building and in line out front
~ Apologies, no toilet facilities available this year
~ We will provide wrapping and bags, please do not bring your own
~ Masked children age 2 and up welcome, sorry no poochies this year
~ Plexiglass Shields will protect shoppers and Guild members at the cashier and wrapping stations
~ Ample hand sanitizers will be provided
Berkeley Potters Guild
731 Jones Street x 4th
510 524 7031