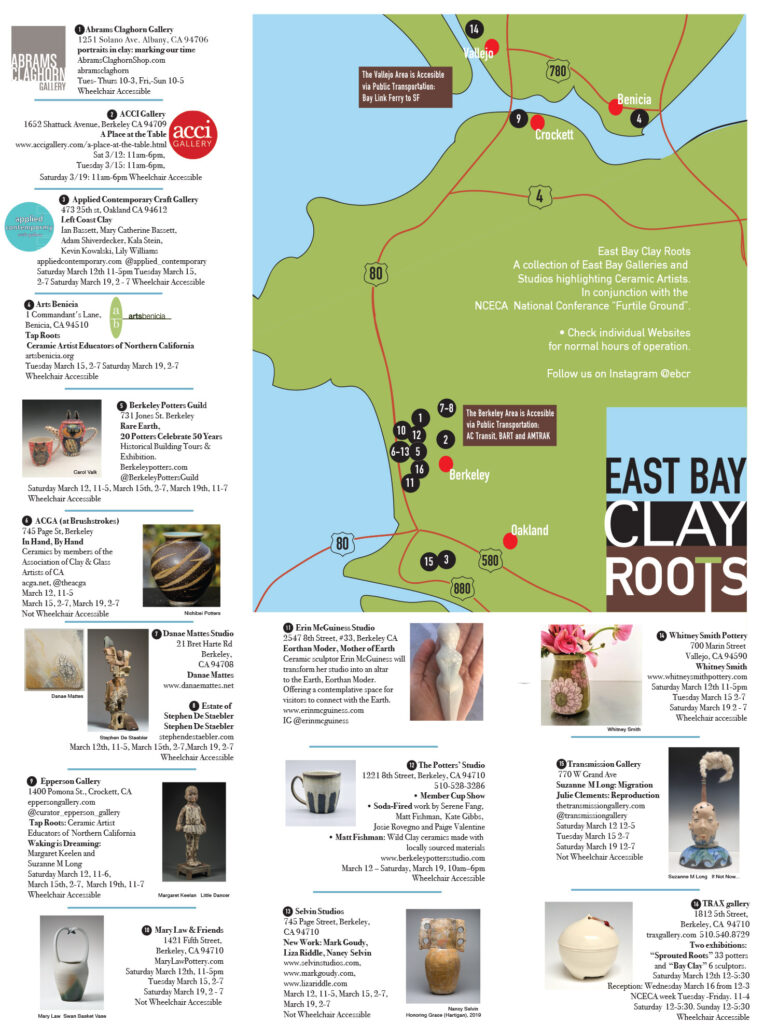 In March of this year, the Berkeley Potters Guild will hold a series of special events in conjunction with the NCECA conference, the National Council on Education for the Ceramic Arts. The actual NCECA conference will be held in Sacramento, each year since 1979 a different US city is chosen. We are inviting conference goers passing through Berkeley and local residents to come to the Guild as our guests. We have joined a collective of 16 East Bay private clay studios and galleries calling ourselves, East Bay Clay Roots. East Bay Clay Roots has designed a clay lovers' tour of the 16 venues before and after the conference in Sacramento. Each studio or gallery is represented on our trifold map which includes individual descriptions, and will be available at each location.
At the Guild we are offering guided tours of our historical building that houses 20 studios, and will have a unique Gallery exhibition for which each member shows a piece inspired by the theme, "Rare Earth, 50 Years in Clay". We happily anticipate seeing you, all of us and guests masked in our COVID safely prepared space.
Dates and times of special East Bay Clay Roots events at the Guild:
Saturday, March 12, 11:00 AM to 5:00 PM
Tuesday, March 15, 2:00 PM to 7:00 PM
Saturday, March 19, 11:00 to 7:00 PM.